Day 01: DIBRUGARH - ROING

Arrival Dibrugarh by air/ train and drive directly to Roing (150 Km). Early lunch at Tinsukia, journey is through the exotic tea gardens. Cross the River Lohit by country made boat. Check in to Circuit House / Eje Breeze Tower/ Lake Resort. Overnight Roing.

Day 02: ROING - HUNLI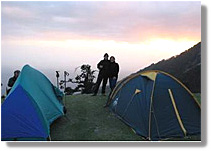 Drive to Hunli (90 Km 3hrs). Evening free. Overnight Inspection Bunglow or Tent, Hunli.
Day 03: HUNLI - ANINI

After breakfast drive to Anini (140km 7hrs) headquarter of Dibang Valley. Enroute visit tribal villages like New Anaya, Ranli, Arruju, and Angulin. Overnight Circuit house, or Tent, Anini.

Day 04: ANINI - GIPULIN

Morning trek to Gipulin (15km 6hrs). Enroute visit Arpopo village. Overnight Tent or Idu (Mishmi) house, Gipulin.

Day 05: GIPULIN - AGRIMBRONLIN

Morning trek and then cross rive Dree by hanging bridge to Agrimbronlin (10km 5hrs). Overnight Tent or Idu (Mishimi) house, Agrimbronlin.

Day 06: AGRIMBRONLIN - ACHESON

After breakfast trek to Acheson (10km 6hrs), Acheson is the last Indian village in this region. Later trek back to Agrimbronlin. Overnight Tent or Idu (Mishmi) house, Agrimbronlin.

Day 07: ACHESON - ETABE

Morning trek to Etabe (20km, 7hrs). Enroute visit Alinneh another Idu (Mishmi) tribal village. Overnight Tent, or Idu (Mishmi) house, Etabe.

Day 08: ETABE - AMULIN - ITALIN

Last day trek to Amulin (20km 7hrs) enroute visit Lawungku and Brawrun and later drive to Italian.
Overnight Inspection Bunglow, Or Tent, Italian.

Day 09: ITALIN - ROING

After breakfast drive back to Roing (170km 8rs). Overnight Roing.

Day 10: ROING - DIBRUGARH

Drive back to Dibrugarh. Evening free at local market. Overnight Hotel Natraj, Dibrugarh.

Day 11: DIBRUGARH

After breakfast transfer to Airport/ railway to connect flight/ train.